Puppy from us?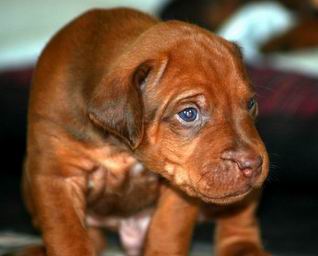 When we give a puppy away to new owners we want to make sure they will know how to handle it, have some knowledge about the breed and enough time for their new pet. This is why we want to meet them earlier, preferably in person, or, for overseas owners, via e-mail. We hope to stay in touch with owners and receive updates about our puppies and their growth. Our main concern is to make sure our puppies are loved and accepted as rightful family members. Our dogs are our friends, they share our home. We don't belive this breed does well raised outdoors or in kennels. Our puppies are whelped and raised in our home, are well socialized and accustomed with house's noise. They are perfect companion to new owners.
What do you get?
Our breeding dogs have been X-rayed to check for dysplasia and have had their thyroid hormone levels tested. They are in excellent health and free from allergies. Upon purchase, puppies will have been examined by a vet, parasite-free and will have received their first course of vaccinations. Naturally, all of them will have been registered with the Polish Canine Association and will have an identification tattoo. We make Early Neurological Stimulation Program, and Volhard's Puppy Aptitude Test for all our puppies. You will receive complete puppy feeding and care instructions. Dog training materials are also available. We are willing to offer assistance and advice in any questions you might have. We also offer you our support and help during all dog's life. You will receive sincere information about the health of all puppies in the litter, also in the course of their adult life. We plan to organise a get-together of our puppies and their owners at least once a year. This will give everyone the opportunity to compare puppies, see how they grow, exchange experience in growing and training and have a good time together. And it comes without saying that you will also receive a pedigree certificate.
If you can't keep puppy for any reason, we expect that dog will come back to us.
---